Toyota Aygo Warning Lights
---
You can find 28 popular Toyota Aygo warning lights and symbols on this page that when clicked take you to a detailed description.
Symbols Index
(click for more information)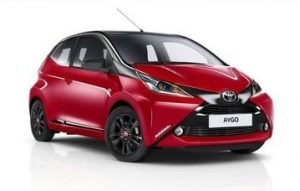 About the Aygo
If you are driving a Toyota Aygo, then you will want to familiarize yourself with the various warning lights that can come up on your dashboard.
Without these, you could end up damaging your engine, causing more problems than ever before.
Knowing what each light means can help you to fix any potentially serious issue.
The Aygo is built at the same plat as the Citreon C1 and the Peugeot 108, they are all the same vehicle.
This car was a joint project with those French car manufacturers to produce a low-cost city car for the masses.
Common Warning Lights
The Toyota Aygo has three common warning lights.
If the engine light is flashing, it means your car needs to be serviced.
Also, if you're driving and you see the speedometer flashing, this means that your car's speed is above the specified limit.
A brake light can flash if you're going too fast for a sharp corner or towards a stop sign, depending on if you have this safety system fitted or not.
The last common warning light is the handbrake light.
If this appears on your dashboard, it means that you're not using the handbrake correctly or are driving without having applied it at all.