Peugeot 307 Warning Lights
---
Select Your Model Year...
Choose the appropriate model year for the Peugeot 307 you are trying to find the warning lights for from the list below.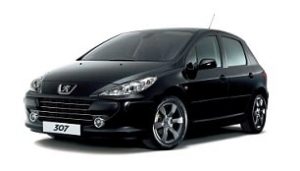 About the 307
The Peugeot 307 is part of the smaller range of vehicles the French car manufacturer produced. Aimed predominantly at families, the 307 was created within the PSA Peugeot Citroen Group between 2001 and 2008 in Europe.
Replacing the 306 (a car that had a very successful 9 years), the newer 307 was built upon the PSA PF2 Platform along with a number of other vehicles such as the Citroen C4, Peugeot 3008, Peugeot RCZ and the Citroen DS4.
Named Europe's car of the year in 2002, the 307 was larger than its predecessor following a global trend of expanding vehicles. Despite the size difference, the two vehicles looked fairly similar. Where the 307 is at the smaller end of the Peugeots, it does straddle the categories, sometimes being referred to as a compact multi-purpose vehicle as well as a 'small car.'
Top Gear tested the 307 against popular competitors, pitting the vehicles against each other in a number of tests. The Ford Focus and Honda Civic both lost out to the 307 in nearly all categories. Not only was the 307 comparably cheaper than these other cars, but it was determined to have more internal space, better road handling, low running costs and a high level of quality materials.
2005 saw a facelift which included a larger air intake with a change in shape to the bonnet and bumper.
Estate versions of the 307 were developed, named the 307 Breck and the 307 SW. These two additions were so similar that perhaps they should have carried the same name badge but with altered trim levels. The 307 SW carries all the features of its sister but with the addition of silver roof bars and a panoramic glass roof.