Volkswagen Golf Warning Lights
---
Select Your Model Year...
Choose the appropriate model year for the Volkswagen Golf you are trying to find the warning lights for from the list below.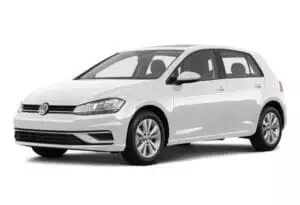 About the Golf
The Volkswagen Golf is one of the most popular compact cars ever made, not to mention one of the most long-standing. It first arrived on the automotive scene back in 1974 and has since spawned 8 generations, with the latest models known as the Golf Mk8, or simply Golf 8 in the markets where it is sold.
Even in the US market, where subcompact minis don't always tend to do so well, the Volkswagen Golf has found considerable popularity, especially the top-rated trim the Golf GTI, which combines greater power and acceleration with more attractive sport styling. The Golf was actually first created as a successor to the then outgoing --- but later to return --- Volkswagen Beetle car.
The latest generation, the Mk8, was first released back in 2019 for the European market, but was delayed to 2020 for China, and 2022 for the North American market. It received numerous exterior and interior design changes, including a more angular exterior with bolder lines and a new headlight signature that matches that of another VW newcomer, the VW T-Roc.
The front end features a much more prominent droop at the front, which is all part of the design to make the Golf more aerodynamic by reducing drag. The other big change was the release of the VW Golf Estate, an elongated wagon design that boasts AWD and a higher suspension.
Volkswagen is quite generous in its powertrain offerings, including 1.0L, 1.5L and 2.0L engines, with the top GTI 2.0L engine outputting up to 242-hp. Transmissions include 6-speed manuals and more advanced 7-speed direct-shift gearboxes (DSG), which are dual-clutch units.
The Golf is an award-winning car that has gone from a budget compact to a symbol of style and compact sophistication in automotive circles. The inclusion of more digital apparatus and ADAS features in the latest models proves that the Golf has evolved into a real institution as far as VW is concerned.