Select Your Model Year...
Choose the appropriate model year for the Audi A1 you are trying to find the warning lights for from the list below.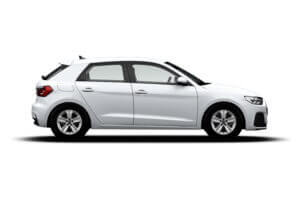 About the A1
Most European car makers feature at least one supermini in their lineup, and Audi is no exception. Though it's not sold in the US market, it has been popular in the European market since its launch back in 2010. Interestingly, while the A3 was sold in sedan form in North America, the A3 in Europe was available both as a sedan and as an enlarged version of this A1 subcompact design.
Though it was first released in 2010, the Audi A1 is actually a successor to a much earlier model, the Audi 50, which was sold during the 1970s, also in the European market. The first generation, launched in 2010 was a 3-door hatchback model, with the selection augmented to include a 5-door model from 2012 known as the A1 Sportback.
A range of powertrain options was offered on the Audi A1, from a small 1.2L 4-cylinder unit that delivered just 85-hp all the way up to a 2.0L inline-4 delivering up to 252-hp. Diesel engines were also available, as was Audi's Quattro AWD system on the top-tier engine options. The A1 was also used as part of a testing program for the now very popular Audi e-tron series, with 20 A1 e-tron models being released for testing in Munich during 2010.
The first generation spawned many interesting special editions, but the car was finally fully updated in 2018 for the second generation. There are two main variants, the A1 Sportback which is the standard layout, but also the so-called A1 Citycarver, released in 2019. The Citycarver adds 1.6 inches of ground clearance, among other things, making it just that bit more rough and ready.
In the latest versions, you'll find all of Audi's top-rated equipment like its digital cockpit, smartphone connectivity, attractive and high-quality materials and decent craftsmanship. It shares a platform with its corporate cousin, the VW Polo Mk6.