Nissan Micra Warning Lights
---
Select Your Model Year...
Choose the appropriate model year for the Nissan Micra you are trying to find the warning lights for from the list below.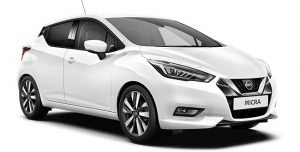 About the Micra
Ever since the early 1980s, we've seen Nissan Micras gracing the roads of the world with their supermini presence. The Micra was Nissan's answer to the likes of the VW Golf and Polo, the Ford Fiesta, Vauxhall/Opel Nova and other superminis being marketed to budget buyers and city dwellers.
Since first rolling off the production lines back in 1982, the Nissan Micra has evolved through 5 generations, the latest of which was released back in 2016. It started out as many compact cars did back in the day, as a boxy vehicle with impossibly straight lines, zero curves and little aerodynamics or grace. They were budget-friendly cars and were just designed to offer alternatives in a growing marketplace.
It was the 2nd generation that formed what many came to remember as the most iconic Micra design, with all its straight edges softened and curved to create more of a "bubble" type of exterior design. The 2nd-generation Micra (K11) did especially well in Europe and the UK, where its efficient 1.0L engine brought cheap running costs and lower insurance premiums.
Subsequent Nissan Micras followed suit, keeping the design distinctly curved and rounded, but all while creating an increasingly sloped front end until the current generation in 2015 that now has a much more aerodynamic wedge-like front-end design with trendy angular lines, sportier alloy wheels and a new more dynamic demeanor.
The latest models are powered by a base-level 900cc engine, with options for 1.0L gasoline turbo units, or a 1.5L turbo 4-cylinder diesel. Despite lacking power, however, it does offer Nissans "Trace Control" technology which actively prevents understeer. It also includes an intelligent around-view monitor to help with parking, pedestrian/cyclist detection and braking/steering assistance all as options.
Like many cars in its class, the Micra has evolved while staying affordable for most western markets. New technology and upgrades have helped price it out of some developing markets, however, such as Latin America.