Nissan Pathfinder Warning Lights
---
Select Your Model Year...
Choose the appropriate model year for the Nissan Pathfinder you are trying to find the warning lights for from the list below.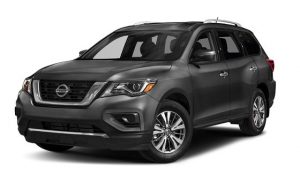 About the Pathfinder
The Nissan Pathfinder has been a prominent feature of the Nissan SUV range since its arrival in 1985. Its design has taken a long journey that many Nissan models have undertaken from boxy 1980s design to a more rounded sporty design. The current generation is the fifth generation, which was released in 2021 for the 2022 model year.
The new Pathfinder is powered by a 3.5L V6 engine that it gets from the 4th generation. This impressive engine outputs 284-hp which helps the Nissan Pathfinder be one of the fastest large SUVs in its class, faster than the Kia Telluride and Toyota Highlander. It'll get from 0 to 60 in just 6.7 seconds.
Despite having a starting price well under $40,000, the Pathfinder is a 3-row SUV with optional captain's chairs in the second row and therefore can seat up to 7 or 8 people in total. At the same time, it can tow up to 6,000-lbs making it truly ideal both for day-to-day utility as well as family vacation time.
True to its name, the Pathfinder has always been about adventure, and even the newest models stay true to that heritage with the 7 different drive modes that help it easily traverse mud, snow, gravel and any rough surface you'd care to name. The powerful Nissan V6 and added 259 lb-ft of torque make crossing the wildest terrain feel like a breeze.
Older Pathfinders all the way up to the 4th generation in 2020 were known for spartan and uninspiring interiors, but the all-new 5th generation has finally rectified this. The cockpit and passenger cabin are well decked out with well-placed storage, and now include a more cutting-edge infotainment and instrument cluster combination, a panoramic sunroof, tri-zone temperature control, optional leather seats and more.
Armed with a comfortable new interior and a still relatively affordable sticker price, the Pathfinder remains a top option for those looking for a larger family SUV that's ready for anything.