Nissan Sentra Warning Lights
---
Select Your Model Year...
Choose the appropriate model year for the Nissan Sentra you are trying to find the warning lights for from the list below.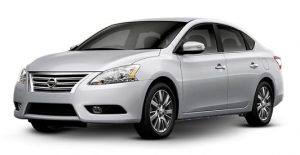 About the Sentra
In the current Nissan lineup, the Sentra sits above the Versa sedan, but below the Altima sedan as a mid-size executive or family sedan. With a starting price under $20,000, it is one of the more affordable sedan models, while also offering more power than the Versa with still pleasing fuel efficiency and overall economy.
The Sentra gets its name from the words "central" and "sentry" all of which allude to the car's relatively compact nature and its focus on safety. The Sentra was originally released as Nissan's subcompact car, but over time has grown into what most would consider a sedan, even though it's officially still classed as compact.
The modern Nissan Sentra is built like a 4-door sedan, with a sporty and athletic body design that's similar in some ways to that of the Nissan Altima. The Sentra and Altima have similar front grille designs framed in chrome and similar sweep-back headlights. The character lines on the Sentra are somewhat less pronounced than those on the Altima, though.
The Nissan Sentra lacks the power of the Altima, although it does have a 2.0L 4-cylinder engine outputting up to 149-hp. Its acceleration is more sluggish, but still better than some offerings from fellow Japanese OEM Toyota when it comes to comfort on the highway. What it lacks in power, it makes up for in fuel efficiency, getting up to 29-mpg in the city, and 39-mpg on the highway.
Modern Nissan Sentras have a more upscale interior than a lot of other Nissan models. There's a 7-inch infotainment display with physical buttons and knobs for those who like them, intuitive controls, optional quilted leather upholstery on Nissan's fancy "Zero Gravity" seats, a sports car-like flat-bottom steering wheel, and an average but respectable 14 cubic feet of trunk space. There's an optional sunroof, too, but beware of tall passengers because the sunroof eats into headroom.