Mazda Mazda2 Warning Lights
---
Select Your Model Year...
Choose the appropriate model year for the Mazda Mazda2 you are trying to find the warning lights for from the list below.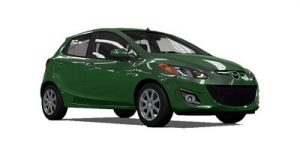 About the Mazda2
When it comes to compact cars, the Mazda 2 would vary rarely be the first that comes to mind; losing out to arguably the better known Ford Fiesta's or Vauxhall Corsa's of this world. However, this isn't entirely fair, where the Mazda 2 doesn't have the same brand recognition as its more popular counterparts, it certainly shares many of the attributes that make a city car great.
Mazda proudly claim that it's just as at home zipping about the town as it is travelling long distances, and with its three trim levels you can have a vehicle that fits around you; Cosy, Sport or Casual. Or if you're of the European persuasion, the less imaginatively named S, TS and TS2.
The Mazda 2 was first released in 2002 (replacing the Revue) and since then has gone through a number of facelifts, three generations, to be exact.
Upon its debut it very quickly ranked as Japan's 7th highest-grossing domestic vehicle and later went on to win the car of the year 2014 – 2015 under the name 'Demio' (which was discontinued in 2019).
Interestingly, most parts are fully interchangeable with the 1.4-litre diesel Ford Fiesta and Ford Fusion, all variations of the model feature a full 5 doors with the emphasis very much placed on the driver's comfort. In fact, Mazda was so keen to make sure that having a compact didn't mean compromising on an enjoyable driving experience, that when they designed this model their mission statement was simply 'Jinba Ittai.' For those of us who aren't fluent in the Japanese language, Jinba Ittai refers to the oneness a rider feels with his horse, or rather a quiet synergy between man and machine.
After 20 years of production, there are no signs of sales slowing or plans for its replacement, and in more recent years Mazda has introduced the M Hybrid drivetrain for even better fuel efficiency.