Mazda CX-50 Warning Lights
---
Select Your Model Year...
Choose the appropriate model year for the Mazda CX-50 you are trying to find the warning lights for from the list below.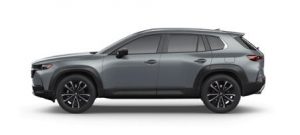 About the CX-50
The Mazda CX-50 is a crossover SUV that attempts to rival leading competitors like the Hyundai Tucson and Toyota RAV4. The CX-50 excels in terms of performance and drive and improves from previous models with the new styling. However, the compact crossover SUV does have a few flaws, and only time will tell if it's able to survive in such a competitive market.
Under the hood, the Mazda CX-50 comes equipped with a 2.5-liter four-cylinder petrol engine, producing 250 horsepower, thanks to some turbochargers. This makes the CX-50 more powerful than its leading rival, the Tucson. The engine is crisp and smooth, and no doubt one of the best engines installed in a crossover SUV today.
As for handling and suspension, the CX-50 really thrives. The suspension reaches a great balance between sport and comfort, allowing excellent handling without compromising comfort. And the handling is sharp and athletic, allowing the car to corner excellently.
The interior of the Mazda is also sublime. The materials used, like leather and soft plastic, are of a very high quality, making the cabin feel very secure and sturdy. They also make the interior simply beautiful, as well as elegant and modern.
Infotainment should be top-notch too. The CX-50 is set to come with a touchscreen infotainment centre as well as a variety of other gadgets like cruise control and automatic braking.
There is a lot of information missing to the Mazda CX-50, as the car hasn't yet been released. Only time will tell if it's able to compete with its rivals, but it does look to be an excellent choice for anyone looking for a new crossover SUV.