Mazda MX-30 Warning Lights
---
Select Your Model Year...
Choose the appropriate model year for the Mazda MX-30 you are trying to find the warning lights for from the list below.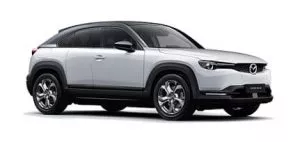 About the MX-30
The Mazda MX-30 is an electric car that is extremely hard to put into any kind of category. The chassis is reminiscent of a family SUV, but the styling makes the MX-30 feel like more of a coupe SUV. The performance statistics show that the MX-30 is intended to be an electric lifestyle vehicle, for lighter use, rather than for more extensive use. Overall, the car leaves a lot to be desired and there are better electric choices on the market.
In its chassis, the MX-30 is equipped with a fairly lackluster motor. It will accelerate the car from 0-60 in under 10 seconds, which feels overall underwhelming and boring for an electric car. In fact, overtaking can feel like too much of a task for the MX-30 at times. So, it's best to stick in lower-speed areas, as this is where the car can cope.
This chassis is similar to the one used under the Mazda3 but adapted for electric car use. It is also the same one that is being used in the slightly larger CX-30 electric car from Mazda too.
As for the overall ride, the Mazda MX-30 is surprisingly comfy. The suspension is nice and soft and will soak up most bumps and potholes in the road so well that you probably won't feel them. The handling also allows the little SUV to stay put in corners, making it pretty fun to drive around bends.
What the MX-30 lacks in performance, it makes up for in the interior, which is virtually flawless. The cabin is comprised of extremely high-quality materials, like leather and soft plastics, making it seem overall very sturdy and expensive. These materials are organized to make an extremely modern and subtle design, which is bound to drop jaws. There's plenty of storage space too, helping the Mazda MX-30 to feel practical as well as pretty.
As for infotainment, the Mazda MX-30 comes well equipped. For instance, a 7-inch touchscreen comes as standard, and it's easily one of the best systems on the market. There's also a plethora of gadgets as standard, such as climate control.