Mazda CX-9 Warning Lights
---
Select Your Model Year...
Choose the appropriate model year for the Mazda CX-9 you are trying to find the warning lights for from the list below.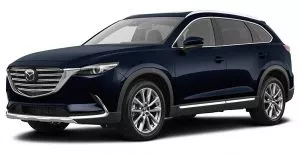 About the CX-9
The Mazda CX-9 is a large SUV that's as luxurious and powerful as it is practical.
The interior of the vehicle includes a variety of warning lights to let you know when there is an issue with your vehicle.
This page will go over what these warnings mean, and how to react when you see them.
The CX-9 sits at the top of the Mazda crossover SUV line with the CX-3 and CX-30 down at the other end in terms of size.
Common Warning Lights in the CX-9
These are the most common warning lights you can expect to see pop up in your Mazda CX-9 according to our visitors.
The oil light is one of the most common that you will encounter.
When this warning light comes on, it means your engine isn't getting enough lubrication to run properly, often meaning there's an issue with the oil pump or filter.
This could be due to a number of factors, so if you suspect you have experienced this problem do not drive your CX-9.
Your Mazda CX-9 might also be overheating if you see this warning light as well, so pull over and let it cool down before driving any further.
If the oil light is on when pulling over, turn off your engine immediately to reduce damage.
Other warning lights you will see in the CX-9 are the ones for tire pressure, brake wear, windshield wipers, transmission temp, and low fuel.
The oil light is just one of these that you should be aware of.
It's important to understand all of these so that you can know when it's time to replace parts or service your vehicle.
If these lights come on while you're motoring down the highway it could put yourself and others at risk if the right action isn't taken promptly.