Jeep Grand Cherokee Warning Lights
---
Select Your Model Year...
Choose the appropriate model year for the Jeep Grand Cherokee you are trying to find the warning lights for from the list below.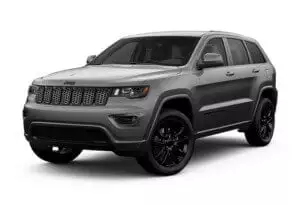 About the Grand Cherokee
The Jeep Grand Cherokee is a luxury SUV that aims to distinguish itself from its rivals with its great off-road capabilities. It's also one of the cheapest luxury SUVs on the market, undercutting the likes of BMW and Land Rover. The Grand Cherokee is overall a solid choice, but some features leave much to be desired.
Under the hood, the Jeep Grand Cherokee features a 3.0-liter V6 diesel, but it has two versions. Entry-level models have 188 horsepower, which is more than enough power. But compared to the 247-horsepower model offered by the rest of the range, it does feel lackluster. The more powerful option allows for a relaxed drive, with the constant awareness that you've got some power when you need it.
Even though it shares its name with the standard Cherokee the two models do not share the same platform.
Every Grand Cherokee model comes with a four-wheel drive as well as an active off-road system. This is extremely useful for tougher terrains and makes pretty much any road type a breeze to drive over. Couple this with air springs, and the car truly is an off-road monster.
As a luxury SUV, a great interior is a must. The Grand Cherokee does offer this, but competitors do a better job. The seats are very comfortable and remind many drivers of an armchair. There's plenty of legroom and boot space too, which make the Grand Cherokee highly practical. The biggest issue however is the boring styling. Compared to luxury Land Rovers or BMW's, the Grand Cherokee feels mundane and even cheap.
Despite the mundane look, the Grand Cherokee is fitted with some great tech. An 8-inch infotainment system is at the heart of this, but other features like adaptive cruise control and a rear-view camera make driving the car even more enjoyable. It's not as equipped as competitors, but it will fulfil most drivers' needs.