Kia Sorento Warning Lights
---
Select Your Model Year...
Choose the appropriate model year for the Kia Sorento you are trying to find the warning lights for from the list below.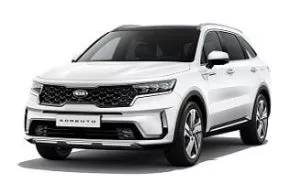 About the Sorento
The Kia Sorento is an attempt to make an impact in the large SUV space, as well as improve on its predecessors. The Sorento does this perfectly and is easily one of the best large SUVs (such as the Audi Q7 and the Dodge Durango) on the market to date. Innovative hybrid options, reliability and practicality are but a few perks associated with the car.
Under the hood, Kia offers its users two hybrid options- a self-charging hybrid or a plug-in hybrid. The self-charging hybrid has more than enough power for most users, taking just under 9 seconds to accelerate from 0-60. The plug-in hybrid is slightly quicker, and actually beats much of its competition, such as the Land Rover Discovery Sport.
Alternatively, if you're really not a fan of hybrids, Kia gives you the option of a 2.2 Litre Diesel. This isn't as quick, but it's a much more responsive system and therefore perfect for those who like the experience of driving. It can also tow more than the hybrids, with a maximum weight of 2.5 tonnes.
Kia did an excellent job with the Sorento's interior. The Sorento is equipped with a 12-inch digital display for the driver, which offers excellent accessibility and visibility. Although Kia is a few steps behind their competition, if you want the latest technology, the Audi Q5 may be a better choice.
The overall build quality of the Kia Sorento's interior is sublime. High-quality plastics are used, and this is coated in a soft material to make everyone's ride comfortable. More expensive models will also come with a leather trim, which makes the Sorento feel very high-end. There's also plenty of room for passengers and cargo, making the Sorento excellent for families. Couple this with an overall safety rating of four stars, and the Sorento truly is one of the best large SUVs on the market today.