Select Your Model Year...
Choose the appropriate model year for the Kia Venga you are trying to find the warning lights for from the list below.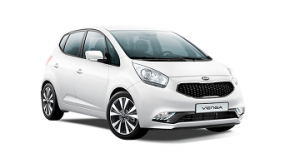 About the Venga
The Kia Venga is a small city car that has been on the roads since 2010. The Venga ultimately represents excellent value for money and is a perfect small car for anyone who wants to get around town for an affordable price. The Venga might not have the greatest performance compared to competitors like the Volkswagen Up! or the Kia Picanto, but if you simply don't care about performance, the Venga can save you some serious money.
Under the hood, original models were fitted with a 1.4 or 1.6-liter petrol engine. The bigger engine produced 89 horsepower and was slow. But it was also dependable and economical. It was a perfect choice for the Venga, as it was cheap to manufacture and even cheaper to run on a daily basis.
Models made from 2011 onwards can now be fitted with a 1.6-liter CRDi engine. This, whilst still slow, is a big improvement over the earlier engines, and the Venga can even feel quite quick around town. Although, it will still feel out of its depth on the motorway.
The overall ride of the Kia Venga is surprisingly good. Smaller cars are not renowned for their comfort, but the suspension of the Venga actually makes for a good ride. The steering is also sharp and agile, which makes the Venga quick round corners. The design of the car also minimizes body lean.
The interior of the Venga is definitely nothing special. The cabin is made of cheap plastics, making for a dull and uninspiring design. There's an absence of tech too. In fact, the most exciting things are probably the electric windows and safety warning lights. This does however save on costs, and the Venga was never meant to be a well-equipped car.