Honda Pilot Warning Lights
---
You can find 19 popular Honda Pilot warning lights and symbols on this page that when clicked take you to a detailed description.
Symbols Index
(click for more information)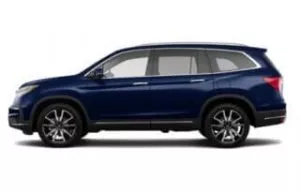 About the Pilot
The Honda Pilot is a popular crossover SUV with drivers who appreciate its durability and reliability.
Like most modern vehicles, it comes with an array of warning lights that will let you know when something needs your attention.
As long as these warning lights are not lit, you can continue to drive the vehicle without any concern.
However, if they do come on you should stop driving the car in order to get it checked out by a professional mechanic before operating it further.
Common Pilot Warning Lights
1. Driver Side Low Tire Pressure
This light will turn on if the pressure in the driver's side low tire is not at the desired limit of 30 pounds per square inch (psi).
2. Brake System Warning
This warning light indicates that there is a problem with your brake system or that your brakes are just barely working. The only way to fix this issue is by visiting a mechanic and having them inspect your vehicle and replace any necessary parts.
History of the Honda Pilot
The Honda Pilot was first introduced in 2003. It had a very distinctive look to it by featuring the "Simulated Wood" trim that also included some real wood within the features.
It came with a 3.5-liter V6 engine and even had four-wheel drive but without a locking differential or low-range gearing fitted to save weight.
It had an independent front suspension and rear suspension double-wishbone design with stabilizer bars for improved control of the car's movement and comfort.
The Honda Pilot takes its chassis from the Acura MDX, which itself took an Accord chassis and vastly modified it for its needs.