Honda Element Warning Lights
---
Select Your Model Year...
Choose the appropriate model year for the Honda Element you are trying to find the warning lights for from the list below.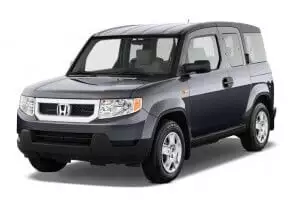 About the Element
The Honda Element has become a bit of a cult classic among dog owners.
It has several special features that the canine-centric world love including side-opening doors, tough and easy-to-clean interior materials as well as a flexible layout.
Honda even doubled down on this by adding a special edition for dog owners that had additional features such as an electric ramp and a rubber floor.
The first examples of the original Element rolled off of the production line in 2002 and the final model was in April 2011.
It was built on the CR-V platform of the time and offered to customers with either a front or all-wheel-drive chassis.
On top of the Element was a moon roof that allowed loads of sunlight to come into the car, mimicking the experience of a convertible minus the wind.
Over the years Honda improved upon the line adding features such as satellite radio and MP3 playback ability as standard.
If wanted, the car was offered with an optional 4-speed automatic transmission but later on the Japanese automaker upgraded it to a 5-speed.
A 5-speed manual transmission was available as standard in the Element which helped with the low fuel economy of 19 miles to the gallon.
In 2007 the line saw a mid-cycle refresh that saw improvements to the built-in driver aids and a boost to the engine power.
Outside, the grille was revised along with several other key design elements of the car to help it evolve with the rest of the Honda range.
Understanding the dashboard symbols built into the car can be a bit hard at first but using the guide on this site the process can be a lot easier.
The meanings are displayed next to each of the Element warning lights examples, laid out so they are easy to find in a rush,
After the car was discontinued the natural successor to the market for the Japanese firm was the HR-V, a crossover SUV based on the Logo supermini.