Opel/Vauxhall Zafira Warning Lights
---
Select Your Model Year...
Choose the appropriate model year for the Opel/Vauxhall Zafira you are trying to find the warning lights for from the list below.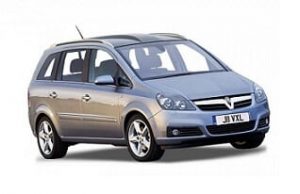 About the Zafira
Actually Known as the Zafira Tourer since 2011, this compact German multipurpose vehicle uses the Astra platform. Overall, there have been 3 generations spanning one decade starting in 1999.
Between the years 1999 – 2006 (known as the Zafira A) Porsche had a hand in development which led Vauxhall to name it after the Arabic word for success. The concept was launched in Frankfurt in 1997, a full two years before sales began.
Vauxhall has enjoyed quite a few successes with this model, the Zafira was awarded 3rd place in the Euro car of the year in 2000 only losing out to the Fiat Multipla and the Toyota Yaris.
There are numerous petrol variations but just one diesel engine in the range.
After just 4 years, Opel gave the compact car a makeover, replacing the 5 seats with seven, the configuration of which lays across three rows. Following a successful advertising campaign, many families opted for this as their main car as it was easy to get in and out of and the rear seats folded flat against the floor. Prior to this most cars that came with the ability to manipulate the seating either folded down but still took up space, or the chairs had to be physically removed from the vehicles and stored.
In 2001 Opel brought out the turbocharged version, the Zafira OPC, making it the fasted minivan in Europe. The Zafira enjoyed global success, even reaching the Philippines, in fact, it was the last Opel/Vauxhall sold in the Philippines in 2005.
The next generation, the Zafira B ran from 2005 through to 2014 and was sold only in Europe and Singapore. It proved unpopular in Japan due to the increased taxes on cars with a larger capacity. However, the Zafira became famous for all the wrong reasons in 2015, drivers were seeing their vehicles literally burst into flames.  Opel urged their customers to not use the fan when traveling at speeds regulated by the resister pack, the reason was apparently a critical thermal fuse. This led to a criminal investigation, and where Opel continued to issue warnings, reports continued to make headlines. Several car parks caught on fire, in 2019 a multi-story caught fire and destroyed nearly 300 cars. Ironically, the Zafira was awarded 5 stars in NCAP's safety test and won 'The Golden Steering Wheel' from Auto Bild in Germany, and its subsequent 26 magazines.