Honda Passport Warning Lights
---
You can find 19 popular Honda Passport warning lights and symbols on this page that when clicked take you to a detailed description.
Symbols Index
(click for more information)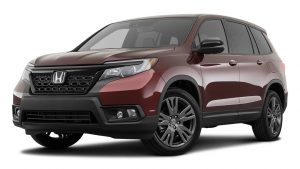 About the Passport
The Honda Passport warning lights can be a little confusing because there are a lot of different symbols you need to understand.
However, the first thing you need to do is read your owner's manual for help with understanding what these lights mean.
It will tell you how to react when they come on and what may have caused them.
Alternatively, you can just quickly browse through these visual guides to learn about the warning lights and find out what they mean.
Flicking through a 1,000 page PDF of the owner's manual is an option but it's a time-consuming event.
On this page, we talk about some common Honda Passport warning light problems as well as how you should respond if they come on while driving.
Common Passport Problems
If your brake fluid level is low or if the vehicle has been stationary for an extended period of time then that could cause one or more of these warnings to turn on.
The brake fluid reduces the effective distance of braking by applying ample pressure on both sides of each piston in the brake caliper.
Another common problem with the Passport is that it has been known to have leaking oil problems. There are sometimes clogs in the filter, as well as leakages from other parts of the engine that may cause this problem.
The Passport
The Honda Passport is a three-row crossover SUV from Honda built on the same platform as the Ridgeline and Pilot.
Its third row can be folded down to allow for more cargo room. It's classified as a mid-size crossover SUV under the EPA guidelines.
Honda is one of the most reliable brands of cars that you can buy today, they have a proven track record for being dependable and long-lasting.