Honda CR-Z Warning Lights
---
Select Your Model Year...
Choose the appropriate model year for the Honda CR-Z you are trying to find the warning lights for from the list below.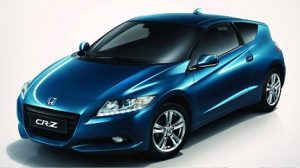 About the CR-Z
A Honda CR-Z is a hybrid car that is powered by both gas and electricity.
The warning lights on the dash are designed to warn drivers when there's a problem with one of the power sources in order to prevent any accidents.
So, if you see a warning light come on, it might be time for an expensive repair or even worse, a problem that could result in an accident.
On this page, you can learn what each warning light means so you can take the appropriate action before something goes wrong.
Common Problems with the CR-Z
One of the most common problems is how the headlights will turn off on their own, even if the switch is turned on.
This typically happens when the car goes over a bump in the road.
The headlights are typically on when it's dark outside, so this can cause serious safety hazards for any drivers following behind the CR-Z.
Another common problem is that some of these cars have headlights that are more white or yellow instead of clear, which can be problematic since they don't provide as much light at night.
Launch of the CR-Z
The CR-Z was introduced in 2009 and Honda designed it as a hybrid sports car using the Toyota Prius as their inspiration.
This vehicle is much smaller than the Prius and it has a more luxurious design to it.
To create the car Honda took the chassis from the Fit Hybrid and added a sporty body to it, keeping the mechanics pretty much the same.
It also has a lot of features and it provides you with a good amount of cargo space for such a small vehicle.
It's sleek and looks like an expensive sports car, but it's affordable for an entry-level hybrid car.