Honda Accord (incl. Acura TSX) Warning Lights
---
You can find 19 popular Honda Accord (incl. Acura TSX) warning lights and symbols on this page that when clicked take you to a detailed description.
Symbols Index
(click for more information)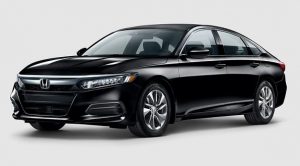 About the Accord (incl. Acura TSX)
If you're a Honda Accord owner, it's important to know what the warning lights on your dashboard mean.
These warnings are not only beneficial for letting you know when something is wrong with your engine, but they can also let you know if there is an issue with things like the air conditioning or headlights.
On this page, we will show you what each of these warning lights means and provide some insight into how these issues may be fixed.
Common Problems with the Accord
One of the common problems with the Honda Accord arises when the speedometer, odometer, or other display does not work.
The owner may need to replace a fuse or even an entire instrument panel.
Another possible problem is that the car won't start or will suddenly stall out while driving.
One more issue that can happen is constant misfires caused by the ignition system, which are often difficult to resolve.
A few things can help lessen this happening, including checking for loose connections in the battery cables and making sure that airflow through the engine is unobstructed by debris under the hood.
Introduction of the Accord
After the oil crisis of 1973, Honda introduced the Accord in 1976 to the Japanese market.
It was Honda's new flagship vehicle, despite its unibody construction which was unusual among most Hondas.
The car quickly became popular for its high fuel efficiency, spacious interior design and luxurious features.
This Accord and the Civic from Honda both have a lot in common, they have almost identical powertrains, including turbodiesel and gasoline engines.
They have also both come with a four-speed automatic transmission as well as a five-speed manual transmission in the past.