Select Your Model Year...
Choose the appropriate model year for the Ford Puma you are trying to find the warning lights for from the list below.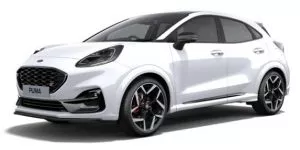 About the Puma
Back in 1997 production of the original Ford Puma began, a sport compact coupe based on the Fiesta chassis.
The Puma was intended as the replacement for the Capri, a popular model for Ford during the 1970s and 1980s.
It was fitted with either a simple 1.4-liter engine or a 1.6/1.7-liter with both mated to a 5-speed manual gearbox.
What separated it from the Fiesta was the firmer suspension, closer gears for faster acceleration as well as a few other sportier changes.
After just 5 years the Puma was taken out of production with no direct replacement - it only had a small production run of around 133,000.
Puma (Crossover)
In 2019 the nameplate returned once again, using the Fiesta chassis as a base but with a slightly different offering.
It was now a subcompact crossover SUV with a taller body and slightly similar styling to the original Puma sport coupe 20 years previously.
The new platform that the car sits on is a lot more generic, seeing use underneath models such as the Ford Fusion all the way through to the Mazda2.
It is fitted with a lot of modern safety equipment, such as a tire pressure monitoring system and emergency brake assist - a huge leap from the original Puma model.
The use of dashboard symbols has also seen an update with an infotainment system relaying the health of the car back to the driver.
Some of the Puma warning lights can be hard to decode still but that is what this guide is for on this page.