You can find 22 popular Ford Puma warning lights and symbols on this page that when clicked take you to a detailed description.
Symbols Index
(click for more information)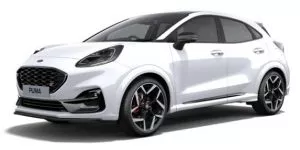 About the Puma
If you own a Ford Puma, then you may want to keep an eye on your dashboard for warning lights.
The car is equipped with a number of dashboard and headlight warnings that will help keep drivers and passengers safe.
That said, it can be difficult to know what each light means without looking up the manual or searching online – a process that takes time and effort.
Luckily, we have compiled all of the information on this page so that owners can quickly identify what their warning lights mean and take appropriate action if necessary.
The Original Puma
The original Ford Puma was introduced in the early 2000s and was praised for its compact dimensions, good fuel economy and impressive safety features.
It was also considered to be one of the most affordable cars on the market at the time thanks to it being based on the Fiesta platform.
The New Puma
The new model is an improvement on what made the original so successful – while retaining its iconic design.
Launched in the 2018 model year, the new Puma is now based on the most recent Focus chassis so it is a little larger than the original.
This newer Ford Puma features a combination of ground-breaking technology and the classic looks that made the original so popular.
This includes a tailgate with a unique design, a seat-belt alert system, and a low-cost spares scheme for car owners.