Dodge Nitro Warning Lights
---
Select Your Model Year...
Choose the appropriate model year for the Dodge Nitro you are trying to find the warning lights for from the list below.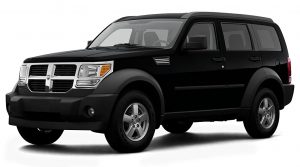 About the Nitro
Dodge has tried on multiple occasions to make a statement within the SUV space. The Nitro is no different. Its style may draw you into thinking that it's a step ahead of the competition. However, this is simply not the case, and the Nitro is compromised in several areas, making it an extremely average SUV.
The Dodge Nitro is certainly in a league of its own in terms of styling. It consists of an in-your-face chrome grille, flat body sides and big wheel arches that give the SUV a retro yet modern and aggressive look.
However, this bold styling does create some compromises when you enter the cabin. The implementation of a vertical windscreen means that the dashboard is extremely shallow. Couple this with a long bonnet, and the driver's seat can feel very old-fashioned. Couple this look with the cheap and sharp plastic interior, and you may forget that this car was built in the 21st Century.
Another drawback of the Nitro is its lack of cargo capacity, You'll get less than 400 liters in the boot, which is pretty low in the SUV field. The back seats do fold, but rivals will offer more space. So, if you frequently carry a lot of luggage, you might want to look elsewhere.
One of the best features of the Nitro is under the hood. The Nitro houses a 2.8 Litre engine, producing enough torque to carry heavy loads. It also produces 174 horsepower, allowing you to get from 0-60 in just over 10 seconds. Couple this with a smooth manual transmission, and the car does handle very well.
It has historically shared its platform with many Jeep models in the past that focus more on the offroad side of driving. If that fits your needs more then you may be more interested in the Jeep Wrangler, Commander and the Liberty that share many of the same mechanical parts.
Overall, the Nitro is a good attempt from Dodge to be different in such a competitive field. However, the Nitro falls short where it matters, so you'll be able to get more value for your money from competitors.