Jeep Commander Warning Lights
---
Select Your Model Year...
Choose the appropriate model year for the Jeep Commander you are trying to find the warning lights for from the list below.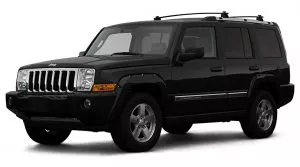 About the Commander
The Jeep Commander is an offroad 4x4 SUV that attempts to compete with the immensely popular Land Rover. Whilst the Commander is packed with some interesting features, it fails to compete with its rival in several key areas.
Under the hood, the powerful Jeep comes with a 5.7-liter B8 engine, producing 330 horsepower. This allows the car to accelerate from 0-60 in around 7.5 seconds and reach a top speed of 127 miles per hour, which is very impressive for a car this heavy. However, as soon as the SUV was released, there were many environmental concerns surrounding the engine. V8s are extremely bad for the planet, and there was a question as to the necessity of an engine this large. The Commander only averages 16 miles to the gallon too, which makes the V8 even more impractical.
Luckily, the overall ride from the Commander is great. It doesn't feel fast, but it does feel extremely comfortable. You'll barely notice potholes in the road, and the interior is nice and quiet too. The handling is a little heavy, but that is expected from a car of this size.
The interior is extremely spacious and can hold up to 7 passengers. This makes the SUV great for big families. There's plenty of boot space too, even when you have all the seats unfolded. The interior is minimalistic and modern, but no match for the luxury of a Land Rover.
The Jeep Commander comes with a great infotainment centre. This includes a touchscreen, Bluetooth connectivity and even a rear-seat DVD entertainment system. This makes the car great for families with young children.
Some common problems with the Jeep Commander include electrical faults, a broken door handle, frequent engine faults and even a leaking sunroof, which is the last thing you want on a rainy day!