Dodge Grand Caravan Warning Lights
---
Select Your Model Year...
Choose the appropriate model year for the Dodge Grand Caravan you are trying to find the warning lights for from the list below.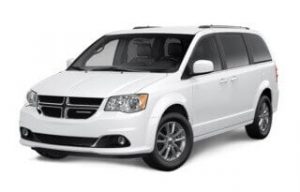 About the Grand Caravan
The Dodge Grand Caravan is one of the most budget-friendly minivans on the market. That being said, it's also the most poorly equipped and basic model by a long mile. If you're looking for a cheap set of wheels and not much else, the Grand Caravan may be perfect for you. But, if you want any kind of driver assistance, you may want to avoid this model.
It has historically shared its platform with the Chrysler Town and Country and later on with the Chrysler Pacifica minivan when it was launched in 2017 too.
The Dodge Grand Caravan is powered by a naturally aspirated V-6 which produces a modest 283 horsepower. It's a reliable engine that produces good power, but the Grand Caravan is one of the slowest minivans on the market. It's also one of the most thirsty engines that you can buy, so don't expect to get more than 25 mpg out of this car. Despite this, the minivan feels smooth to drive, and despite being top-heavy, handles excellently through corners.
On the inside, the Grand Caravan offers simplicity and practicality. There's plenty of cargo space, and you'll even be able to fold the back seats completely, essentially turning the car into a cargo carrier. This is incredibly useful and convenient, especially if you frequently have to carry a lot of cargo with you.
Unfortunately, the good news ends there. The Grand Caravan's infotainment system is outdated, to say the least. The system is confusing to use, offers little to no customization, and you won't be able to connect your own device. This is a deal-breaker for many people, and it does make the Grand Caravan seem incredibly old.
The Grand Caravan scored an overall safety rating of 4 stars with NHTSA during its final test in 2020. This may seem great, but compared to rivals (like the Honda Odyssey and the Chrysler Voyager), it's actually pretty poor. So, if you're looking for a safe minivan, the Dodge Grand Caravan might not be for you.