Chrysler Town and Country Warning Lights
---
You can find 32 popular Chrysler Town and Country warning lights and symbols on this page that when clicked take you to a detailed description.
Symbols Index
(click for more information)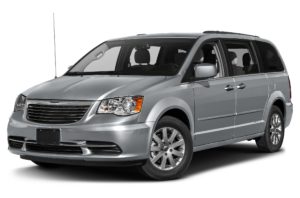 About the Town and Country
The Chrysler Town and Country minivan first rolled off the production line in 1990 and was a completely different vehicle from its predecessor that shared its name.
The previous car that saw production since the early 1940s was a huge station wagon that ferried around families in the USA.
The newer Town and Country was completely re-imagined for the changing consumer who wanted a taller shorter vehicle that could fit in a parking spot without sacrificing storage space.
The Town and Country minivan came in many trims throughout its lifetime in order for it to appeal to as many different budgets and tastes as possible.
Engine choices were limited to V6's for most of its life which provided ample power for the family to get around but not too much to make it gasoline hungry and uneconomical.
The Chrysler minivan was a popular sight on American roads up until 2017 when the manufacturer decided to end the almost 80-year-old nameplate and switch to something more modern.
Its replacement was the Pacifica, a much more rounded minivan designed to serve the needs of the average American much better.