Citroën C5 Aircross Warning Lights
---
Select Your Model Year...
Choose the appropriate model year for the Citroën C5 Aircross you are trying to find the warning lights for from the list below.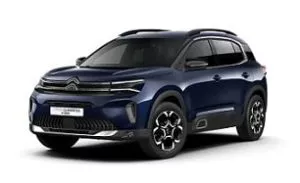 About the C5 Aircross
Taking advantage of the €100 million investment made to the PSA group, Citroen debuted a concept version of the C5 Aircross at the Shanghai Auto Show in 2015. Two years later the production version began sales across Europe. CEO Linda Jackson released the design somewhat unconventionally on Twitter, with a mission statement 'to be the future of SUVs.' The name 'C5 Aircross' was originally reserved for the Chinese markets, but after no better alternatives were put forward, the nameplate was kept for all vehicles.
Successor to the C4 Aircross, this newer model was quite a bit larger than its predecessor in a bid to compete with full-sized SUVs like the Nissan Qashqai, Kia Sportage, Renault Kadjar, Suzuki Vitara and the Hyundai Tucson. Citroen was careful to ensure the car was just different enough from the Picasso C4 so as not to draw sales away from an already successful vehicle.
Citroen's Advanced Comfort program allowed for a good internal space, comfortable & high-quality materials and a panoramic sunroof allowing for great internal luminosity. Safety features included a 12.3-inch digital dashboard, an 8-inch touch screen, automatic emergency braking, blind spot monitoring and adaptive cruise control.
Two petrol engines were manufactured for Europe, a 1.2 liter 130 horsepower and a 1.6 liter 180 horsepower; and two diesels, 1.5-liter 130 horsepower and 2-liter 180 horsepower.
The C5 Aircross was the first Citroen to be mass produced with a plug-in hybrid powertrain. Released in China with different engines in comparison to Europe, the C5 Aircross also had a different seat configuration. Chinese models had a fixed folding 2nd bench whereas their European counterparts had three individual folding chairs. Since its official launch, a little over 330,000 units have been sold worldwide.