Volkswagen Beetle Warning Lights
---
Select Your Model Year...
Choose the appropriate model year for the Volkswagen Beetle you are trying to find the warning lights for from the list below.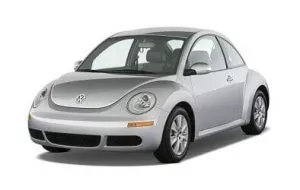 About the Beetle
Is there a Volkswagen more iconic than the VW Beetle? Those who know their automotive history know that the Beetle was also known as the VW Type 1. It's a 2-door compact sedan car that was later also developed as a 2-door convertible when it was revitalized. In its long history going all the way back to 1938, the VW Beetle has seen production of 21.5 million units.
It didn't take long for the "Beetle" name to catch on, starting in England and then spreading into other languages. The French called it "Coccinelle" which means ladybug. From the VW Beetle's initial design language were derived many iconic VW models, including the Type 2 "Bus" and the Type 4.
The VW Beetle was the common ancestor for a multitude of rear-engine compact vehicles that came to dominate the market in Europe and even some product lines in the US until VW changed the market again with the introduction of the front-engine hatchback, the still famous VW Golf in 1974.
The original Beetle stayed in production until 2003, but at the tail end of its production in 1998 came the VW New Beetle. The New Beetle retained the same fundamental design and shape, but included softened round edges, a front-mounted engine, and was also available as a convertible and coupe. Its most powerful engine was a 3.2L V6 that delivered 222-hp and 236 lb-ft of torque.
Production of the New Beetle ran from 1997 to 2011, before it was replaced by yet another new model, the Volkswagen Beetle (A5) which ran from 2011 to 2019. The VW Beetle A5 was based on the VW Golf Mk6 platform and featured much-updated interiors and even some special editions with unique exteriors like the Black Turbo, e-Bugster EV concept, the Dune, the Fender Edition and the GSR Limited Edition.