Chevrolet Volt Warning Lights
---
You can find 8 popular Chevrolet Volt warning lights and symbols on this page that when clicked take you to a detailed description.
Symbols Index
(click for more information)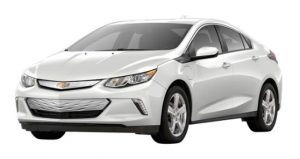 About the Volt
The Chevrolet Volt is a popular hybrid electric vehicle that can travel up to 50 miles on battery power alone.
Warning lights on the car's dashboard provide important information about the status of your car's electrical and mechanical systems.
On this page, we will discuss how you can determine what each light means and what you should do if it appears.
These Chevy Volt warning lights can be a little misleading.
There are several different ones that come on at various times, and some even stay on the entire time.
A few of them have a little more important meaning than others, while most of them will happen while you're driving and there's nothing wrong with your vehicle.
The battery charge level is indicated by a battery image with a number in the circle.
If the number is lower than three bars, it means your battery charge level is low and ready for a recharge.
Rear camera alert: the rear camera alert comes on when you turn on the rear camera via your console screen or if you use your touchscreen to activate it.