Chevrolet Spark Warning Lights
---
Select Your Model Year...
Choose the appropriate model year for the Chevrolet Spark you are trying to find the warning lights for from the list below.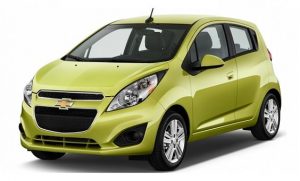 About the Spark
The Chevrolet Spark comes from General Motor's subsidiary GM Korea. Originally developed by Daewoo in 1998, it started out life as the Matiz. In 2002, General Motors bought out Daewoo Motors creating a confusing number of nameplates and brands worldwide.
This Spark was otherwise known as the Holden Spark Barina in Australia and New Zealand. General Motors brought out an all-electric version called the Chevrolet Spark EV in America in June 2013. This was the first all-electric vehicle produced by GM since the EV1 was discontinued in 1999.
The first generation (dubbed M100) was sold as the Matiz in South Korea and Europe and was based on the Lucciola and had a 800cc engine which in itself was a carryover from the Daewoo Tico. This came with three trims, the E, S and SE, the latter had air conditioning, wheel covers and body-coloured bumpers. Between 2000 and 2005, the Spark underwent a facelift that was fully designed at Worthing technical Centre in England.
The second generation was revealed at the Paris Motor Show in 2004 as a concept car, and the third generation debuted in 2009. This latest model was based on the 2007 Chevrolet Beat concept car (to which it's still referred to in India exclusively).
2015 saw the introduction of the fourth generation (known as M400) and was created by the Global design chief Michael Simone. This was displayed at the New York International Auto Show and had several rebadged variants such as Holden Spark, Opel Karl, Vauxhall Viva and VinFast. In Northern America, the trim levels were LS, 1LT and 2LT, all of which had 1.4-liter engines. The 2018 facelift saw the addition of an infotainment system, new exterior styling and new, varied colour options.