Opel/Vauxhall Karl/Viva Warning Lights
---
Select Your Model Year...
Choose the appropriate model year for the Opel/Vauxhall Karl/Viva you are trying to find the warning lights for from the list below.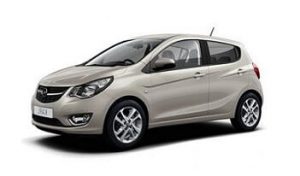 About the Karl/Viva
With more and more people concerned about fuel prices and vehicle running costs, the city car category has become a competitive one, especially in the European market where streets are narrow, parking scarce, and gas prices through the roof even on most good days.
One city car that was manufactured between 2015 and 2019 was the Opel Karl, also known in the UK market as the Vauxhall Viva. While the name may seem a little random to some, "Karl" is inspired by the son of Open founder Adam Opel, whose name was, unsurprisingly, Carl. When the Opel brand was bought by PSA group back in 2019, the Karl/Viva was discontinued.
If you look at the Opel Karl and think you spot similarities to the Chevrolet Spark, then you'd be right. The Karl was in fact a rebadged and slightly restyled variant of that car, and specifically the fourth-generation Spark. It is powered by a 4-cylinder direct-injection engine with 1.0-liter displacement, making about 73-hp in all.
Standard equipment on the Karl included multiple airbags, electronic stability control (ESC), hill start assist, electric power steering, cruise control, a tire pressure monitoring system, rear parking sensors, lane departure warning, a start-stop system for driving in heavy traffic, and even a 7-inch infotainment system.
Options included heated front seats, heated steering wheel, and a sunroof, not to mention 16-inch alloy wheels. In all, the Karl/Viva was considered to be a very generous offering when compared to similar city car models, none of which generally matched its standard-level offering or options.
One more variant of the Karl/Viva also exists in the form of the Vietnamese VinFast Fadil, which was manufactured from 2019 to 2022 under license as a rebadged version of the Chevrolet Spark, which at the time was produced in South Korea.