Chevrolet Impala Warning Lights
---
Select Your Model Year...
Choose the appropriate model year for the Chevrolet Impala you are trying to find the warning lights for from the list below.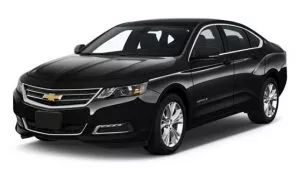 About the Impala
The Impala was a heritage model line for the American automaker Chevrolet.
It was in production since the mid-1950s initially occupying the full-size car space before switching to a mid-size car for 2 generations and then back to being a full-size car.
For a long time, the Impala acted as the company's angel product, making up a large chunk of their sales.
It sold in massive numbers, pushing sales of over a quarter of a million per year for many years.
In more recent years though, the car (like many other traditional sedans) has lost its appeal as crossover SUVs take over.
It eventually stopped being sold and 2020 was the final model year for the Chevrolet Impala.
Chevrolet's parent company General Motors hasn't stopped producing sedans altogether though but that has reduced its focus in the segment.
You can find Chevrolet continuing with the popular Malibu sedan, a model that began sales in the 1960s.
Coincidentally the Malibu sits on the same platform as the Impala but with slightly reduced dimensions to help it fit into the mid-size car segment.
In 2017 Chevrolet used the same platform that these sedans sit on to create a crossover SUV that they sold under the Cadillac brand.
The Cadillac XT5 was packed with modern technology and because it was built on an already established chassis it was a great car straight away.
Then in the year 2019, Chevrolet launched their own affordable crossover SUV using the Impala chassis that they marketed as the Blazer.
The Blazer nameplate had been in use since back in the late-1960s for more traditional SUVs that sat on heavy ladder-on-frame chassis'.
These new crossover SUVs were constructed like normal road-going cars with the body and chassis blended as one unit to reduce weight.
2020 then saw the introduction of a three-row SUV built using the Chevrolet Impala chassis sold through their luxury sibling brand, which they named the XT6.