Select Your Model Year...
Choose the appropriate model year for the BMW X3 you are trying to find the warning lights for from the list below.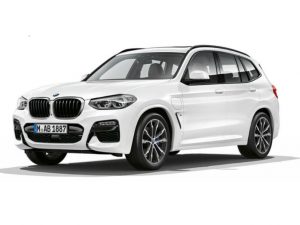 About the X3
The X3 is one of BMW's compact luxury crossovers, sitting roughly in the middle of their offering of SUVs in terms of size. This model dates back to 2003 and the German autoobile manufacturer made sure to closely base it on the 3 Series.
Now in its 3rd generation, the mid-range sport utility vehicle was the first in a large range of midsize luxury SUVs.
It enjoyed 5 years relatively competition-free, right up until Mercedes brought out their GLK-Class (renamed GLC-Class since 2016). BMW set the trend with the X3, which at the time was a standout, but now, many cars have either been replaced or upgraded to SUVs. The X2 fits exactly in the middle of BMW's range, smaller than the X5 & X6 and a little larger than X1 and X2.
Interestingly, where there seem to be a large variety, all of these cars share just one hybrid version alternative, the ix3.
The first-generation X3 was built in 2003 through to 2010 used the 3 Series platform and was revealed as a concept car at the Activity at Detroit Auto Show. Its reveal was very quickly followed by another debut in Frankfurt. Here, BMW told its fans that this vehicle was aiming for agility with a compact chassis.
There was a facelift of the X3 in 2007 which affected the bumpers, slight tweak to the engine, interior trim and suspension. The newer models enjoy 8 speakers, keyless entry (one of the first in its class) and 17-inch alloys. The second generation was shown off at the 2010 Paris show and stretched 7 years up until its withdrawal in 2017.
There was another facelift in 2014 which added an 8-speed automatic transmission, new circular headlights and the controversial kidney grille at the front.
Finally, in 2017, BMW brought out the 3rd generation codenamed G01 June. There were just three versions 2-litre & 3-litre diesel engine and a petrol variant, all of which share the technology with the BMW 5 Series.