Select Your Model Year...
Choose the appropriate model year for the BMW X6 you are trying to find the warning lights for from the list below.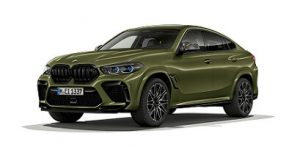 About the X6
The BMW X6 is a mid-size luxury crossover, first released in 2008, receiving major updates in 2014 and 2019. It aims to bring a sportier aesthetic to the market, helping it to compete with top rivals such as the 2021 Audi Q7 and 2020 Jaguar F-Pace. This SUV excels in terms of performance, boasting great acceleration and handling. However, the infotainment options are below average, and the X6 can cost much more than top competitors once you've got it to a decent spec.
Under the hood, standard models come equipped with a 3-liter incline six-cylinder engine, which produces 335 horsepower thanks to a turbocharger and a hybrid system. The base engine is decent and is more than enough for everyday driving. Although, if you're looking for outright performance, competitors might do a little better.
So, if you're looking to leave all other cars in your rear-view mirror, you might want to consider the 4.4-liter V8, which produces 523 horsepower. This engine will accelerate the X6 from 0-60 in under 4 seconds, making it one of the quickest luxury crossovers on the market.
The overall ride is one of the X6's best features. The suspension is nothing short of perfect for everyday use, as it reaches a balance between sport and comfort. The handling is also sharp and precise, making it easy to control the insane power generated from the engine. You'll also probably never see the warning lights pop up, as the car is extremely reliable.
The interior of the X6 does let the car down. The cabin is very pretty, but the infotainment system is extremely disappointing. A 12.3-inch touchscreen comes as standard, but this is difficult to use and frequently glitches. This considerably takes away from the luxury feeling of the X6.