Select Your Model Year...
Choose the appropriate model year for the BMW X7 you are trying to find the warning lights for from the list below.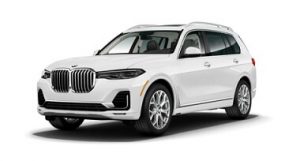 About the X7
The BMW X7 is a luxury three-row SUV that has been on the roads since 2018, receiving big updates in subsequent years such as 2021. It aims to rival leading competitors, such as the Audi Q7 and Volvo XC90 by offering superior performance and heightened luxury. It offers unbelievable power and refinement and feels more like a sports car than a 7-seater. However, the X7 is less practical than its competitors, due to its smaller cargo capacity. Overall, the car is one of the best luxury three-throw crossovers on the market and beats its competition in nearly every way.
Under the hood, standard X7s come equipped with a turbocharged incline six-cylinder engine, which produces 335 horsepower. This engine is incredibly refined and smooth, whilst also offering great performance.
If you're looking for something more powerful, you could opt for the V8 engine, which produces an unbelievable 612 horsepower. This engine offers sublime performance and makes the X7 feel like a supercar rather than a 7-seater. It's also pretty economical for a V8.
The overall ride of the BMW X7 is one of its best features. The suspension is soft enough to absorb all of the roads' punishment, but not so soft as to compromise performance. And the cabin is quiet at all times, due to great exterior sound muffling. This enhances the feeling of luxury.
However, the steering does produce noticeable lean in tight corners, which takes away from the overall performance of the SUV.
The X7 is renowned as one of the most reliable 7-seaters on the market. The warning lights and sensors are some of the best on the market, and you'll probably never even see a warning light as the overall build quality is so strong.
The cabin features a good array of tech, such as a 12.3-inch touchscreen which comes as standard. This really enhances the feeling of luxury.