Toyota Tundra Warning Lights
---
You can find 28 popular Toyota Tundra warning lights and symbols on this page that when clicked take you to a detailed description.
Symbols Index
(click for more information)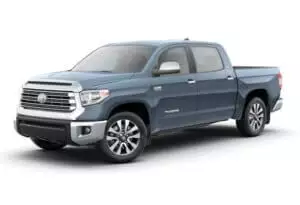 About the Tundra
If you are driving a Toyota Tundra, there are many warning lights that could potentially appear on the dashboard.
It is important to know what they mean so that you can react accordingly.
On this page, we will discuss the meaning of each light and how to deal with them accordingly if they appear.
The Tundra shares its Toyota New Global Architecture-F platform with the Land Cruiser SUV and so the dashboard symbols should be the same.
Common Warning Lights
Airbag Warning Light
This warning symbol will flash and stay on if your vehicle's airbag systems have been damaged due to an accident or collision.
If the car has not been in an accident then the system may have broken due to age and or wear – this is definitely worth checking out ASAP.
Brake System Warning Light
This may indicate that there is a problem with the braking system such as low brake fluid, loose wheel sensors, parking brake problems, brake pad problems, or other braking system-related components.
Check Engine Light
May be triggered by engine misfires that flag the vehicles' oxygen sensor which then triggers the check engine light.
If you are experiencing this issue, schedule an appointment with your nearby Toyota dealer for diagnosis because it could point to bigger issues like