Toyota Tacoma Warning Lights
---
Select Your Model Year...
Choose the appropriate model year for the Toyota Tacoma you are trying to find the warning lights for from the list below.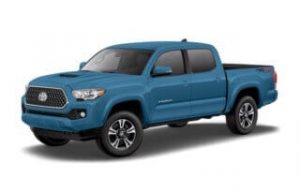 About the Tacoma
When the first Toyota Tacoma models were introduced to the public back in 1995 they were classed as compact pickup trucks.
They were built on the same platform as the Hilux (another pickup truck) and the 4Runner (a compact off-road-capable SUV).
Unlike the Hilux, this new Tacoma model was designed to provide a higher level of comfort to the occupants.
In the USA (where the Tacoma is targeted) pickup trucks are popular with commercial as well as domestic automobile buyers.
North American buyers demand a higher level of comfort features because of this and that is where the Tacoma fits in.
With the move into the second generation in 2005 (for the 2006 model year) the pickup truck was reclassed as a mid-size.
It had grown in size to better accommodate the market needs of the average American pickup truck buyer.
This did have a slight positive effect on sales but with a large global recession just around the corner, this Tacoma struggled to hang onto sales.
With the introduction of the third generation in 2015, the pickup trucks' fortunes were reversed.
Sales began growing thanks to its stylish design and abundance of new features, inspired by the popular revised 4Runner.
It was now being offered with a less utilitarian design to help it appeal to family buyers in the world's largest automobile buying territory, the USA.
Sales have continued to push higher and achieve over 50% more per year compared to the previous second-generation model.
For the 2020 model year, the Toyota Tacoma received a facelift that focused primarily on the technology inside of the truck.
The built-in infotainment system was now compatible with Apple and Android devices - to keep it up to date with competitors such as the Nissan L200.
For the higher-level trims, the standard features now included a power-adjustable driver's seat and a camera system to aid in parking.