Toyota Yaris Warning Lights
---
You can find 28 popular Toyota Yaris warning lights and symbols on this page that when clicked take you to a detailed description.
Symbols Index
(click for more information)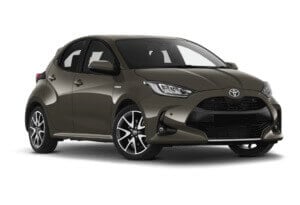 About the Yaris
There are a number of warning lights on your Toyota Yaris dashboard.
These are designed to tell you when there is something wrong with the car, so it's important that you know what they mean and how to fix them.
The check engine light for example can be an indicator for many different problems, but if it stays on then you'll need to take your car in for service.
The car is built on the B platform from the Japanese automaker like the Prius C and the Corolla.
All Toyota vehicles come with a warning system that lets you know when there is a problem with your car.
You can usually tell if there is a problem with your car by looking for any of the following warning lights: the engine cooling light, the oil light, and the brake light.
The engine cooling light will illuminate on the dashboard of vehicles that have air conditioning.
This will indicate to drivers to turn off their air-conditioning as soon as possible because they need to let their vehicle cool down before driving it again.
The oil light is not a common warning light but it is often associated with low oil levels which is why it should be replaced as soon as possible as well as any other maintenance items that are needed for the car.