Opel/Vauxhall Crossland Warning Lights
---
Select Your Model Year...
Choose the appropriate model year for the Opel/Vauxhall Crossland you are trying to find the warning lights for from the list below.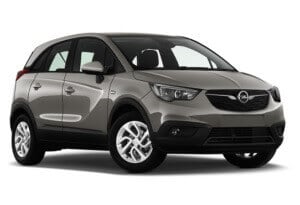 About the Crossland
The Crossland, previously known as the Crossland X, is Opel's subcompact crossover SUV. It was released for sale in 2017. It is also sold as the Vauxhall Crossland in the United Kingdom.
Since its release, the Crossland has been built by Opel's factory in Zaragoza, Spain.
With crossover SUVs becoming more popular, the Crossland took the place of the Opel Meriva - a multi-purpose vehicle. This puts the Crossland just below the bigger Grandland.
The Crossland fits into the crossover SUV category and features a 5-door layout like most others in the class.
Because of the joint-venture that is Stellantis, the majority of the Crosslands competition comes from many of its in-house counterparts. These are most notably the Citroën C3 Aircross,
and the Peugeot 2008.
Along with the Crossland, both of these two models share the same P1 platform by PSA.
The Crossland comes with the option of a 1.2-liter petrol with or without turbocharger, as well as a 1.6-liter turbocharged diesel. All of the engines are front-mounted.
All of the engine configurations come with the option of a 5- or 6-speed manual or automatic transmission. Regardless of configuration, the Crossland is always front-wheel-drive.
Opel also made strides toward a more climate-conscious offering with a 1.2-liter LPG engine.
There has only been one generation of the Opel Crossland at the current time, but it did receive a modest facelift in 2020. The facelift included new interior and exterior styling.
This also marks the point when the 'X' was dropped from the name.