Mercury Grand Marquis Warning Lights
---
Select Your Model Year...
Choose the appropriate model year for the Mercury Grand Marquis you are trying to find the warning lights for from the list below.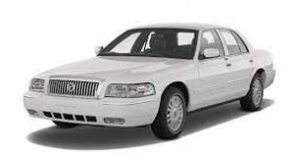 About the Grand Marquis
The Mercury Grand Marquis spanned many decades as a premium inline full-size sedan with the first car rolling off the production line in 1975.
Spending its whole life built upon the Panther Platform alongside the Lincoln Town Car and the Ford Crown Victoria, the former was practically identical to the Grand Marquis, with the only difference found in the levels of trim.
Both were built at the same assembly plant in Canada, the first stand-alone model (not part of a line) began in 1979. Ford revised the styling for this model, streamlining the vehicle, it was intended to appeal to a younger demographic as a stylish alternative to the Buick Electra, Oldsmobile 98 and the Chrysler New Yorker.
Initially, the standard engine was a 4.2-liter V8 that was later replaced by a 4.9 liter V8 that could produce 130 bhp. Like many vehicles of the time, this car was large with an aesthetic put together by a series of rectangles, but in some areas like the pillars, Mercury curved and rounded off the harsh design.
With the ability to seat 6 passengers, the Grand Marquis had a front bench seat (making use of all the space), the front dashboard was covered in an attractive brushed stainless steel. By 1991, the total production count was just a little short of one million (987,818 to be precise), and so the second generation was created to capitalize on the success.
From 1992, huge changes were made by Mercury, the chassis remained the same, as did the platform, but the body looked utterly different. Mercury had not picked up as many younger customers as they would have liked, and so in a bid to make this vehicle appeal to families, they rounded off all the sharp edges further and gave the Grand Marquis a more aerodynamic aesthetic. Removing the old-fashioned opera lamps and padded vinyl top, Mercury added some new attractive trim, the GS and the Deluxe-Trim LS.
Ford shut Mercury down completely ending all cars built under the badge in 2010 after a long 72 years. In total, 2.7 million Grand Marquis' were sold making it one of the most successful Mercurys in the company's history.