Mercury Sable Warning Lights
---
Select Your Model Year...
Choose the appropriate model year for the Mercury Sable you are trying to find the warning lights for from the list below.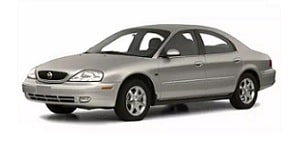 About the Sable
The Sable is a name for a range of cars created by the Ford-owned company, Mercury from the year 1986 onwards.
Around this time, Ford invested $3.5 billion into a project designed to catapult the Ford Taurus into success and of course, the Sable benefitted fully.
This was the largest sum of money dedicated to one vehicle line that Ford had ever invested, in comparison, only $870 million had been ringfenced for the Ford Fiesta.
Informally acknowledged to be an 'all American' car, the Sable was designed, developed and built all within the United States.
Upon launch, in 1986, it instantly replaced the Mercury Marquis, and after picking up customers who would have purchased the Marquis alongside new purchasers, the Sable very quickly became one of Ford's best-selling models.
It sat in the top three Mercury cars sold, besides the Topaz and Mercury Grand Marquis outselling the Taurus.
Two powertrains were available a 3-speed automatic transmission producing 90 brake horsepower and a V6 4-speed automatic with 140 bhp.
After running for the first few years, reports began to come in of some mechanical issues surrounding the Sable; these lead to nationwide recalls for common problems, namely issues with seat belts, service brakes, the hydraulics, seats and even the exterior lighting. Because of this, sales dropped and Mercury reacted by completely redesigning the car. Now, the customer could purchase the Sable as either a 4-door sedan or a 5-door station wagon with a choice of trim levels, GS or LS (the former entry-level, and the latter premium).
These new second-generation models rolled off the production line in 1992 and where the trim levels remained, changes were made to the controls, dashboard, door panels, a standard front cloth bench seat with the option to replace it with a bucket and a much more rounded exterior.