Genesis G70 Warning Lights
---
Select Your Model Year...
Choose the appropriate model year for the Genesis G70 you are trying to find the warning lights for from the list below.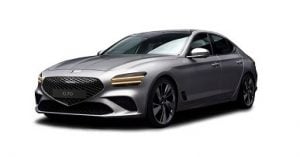 About the Genesis G70
The Genesis G70 is the company's smallest luxury sedan. Despite the size, the G70 comes packed with brilliant features, making it easily one of the company's best cars, and one of the best luxury sedans on the market, beating rivals like the Audi A5 and Kia Stinger, in several key areas. The G70 is stylish on the inside and out, features an excellent ride and is one of the best value-for-money sedans on the market. Although, the base engine is a little disappointing.
The 2022 Genesis G70 has made some significant changes to the 2017 model. For instance, the car has received updated rear styling, updates to the interior, a new infotainment system and even better warning lights to improve safety. This has made the 2022 model even more competitive in a saturated market.
Under the hood, standard G70s come equipped with a 2.0-liter four-cylinder engine which produces 252 horsepower, courtesy of a turbocharger. This engine feels very average and makes the G70 feel a little boring and uninspiring.
Luckily, the company does offer some more exciting engine choices. For instance, you could opt for a V6, which produces 365 horsepower and will accelerate the car from 0.60 in under 5 seconds. This engine feels much more capable on open roads and helps the G70 to keep up with its rivals BMW and Audi.
The overall ride of the G70 is sublime. The suspension reaches a near-perfect balance between sport and comfort, allowing the driver to have some fun without disturbing passengers. And the handling makes the G70 feel sharp and agile, and even more capable on the roads.
The interior of the G70 feels very luxurious and features a lot of technology. For instance, a 13-inch touchscreen infotainment centre comes as standard.