Hyundai Getz/Click Warning Lights
---
Select Your Model Year...
Choose the appropriate model year for the Hyundai Getz/Click you are trying to find the warning lights for from the list below.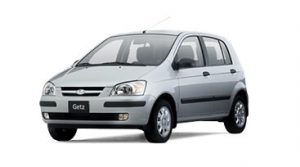 About the Getz/Click
The Hyundai Getz is a small car that was produced from 2002 and ended production in 2009. The Getz focused on providing users with the best value for money possible, which did mean several compromises in terms of performance, styling, and overall personality. So, if you're looking for an eye-catching hatchback that will make you stand out on the road, the Getz certainly isn't for you, and you should consider a competitor such as the Volkswagen Up! or Kia Picanto. But, if you're looking for a dependable and cheap car to get you around town, the Getz might just be perfect for you.
Under the hood, the Hyundai Getz comes with a variety of engines to choose from. Earlier models, produced in 2002, came equipped with a 1.1-liter petrol. It wasn't exciting, but it did work, and it was dependable.
Later models came with a 1.5-liter diesel engine, which produced just 95 horsepower. This gave a very poor performance, but it did provide excellent fuel economy, which saved on costs. This was certainly the theme with the Getz- saving money in every way possible.
The overall ride of the Getz was subpar, to say the least. The suspension felt cheap and firm, which made for an uncomfortable ride. And the steering was inaccurate and produced a lot of body lean in corners. But, if you just plan to do 30 in a city, it should be adequate.
The interior of the Getz was its best feature. Not only was the car packed with the latest safety technology, like top-of-the-range warning lights and sensors, but there were also some great infotainment systems. Later models saw the introduction of touchscreen systems, which were fast and responsive and featured great graphics.