Select Your Model Year...
Choose the appropriate model year for the Audi A5 you are trying to find the warning lights for from the list below.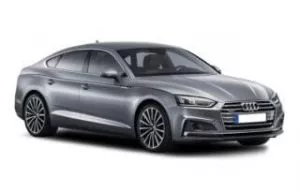 About the A5
Audi's family of A-Series sedan models have long been the company's bread and butter car range, with each model playing a certain role in the lineup. The Audi A5 is a compact executive sedan that could be seen as a step up from the popular A4 in terms of specification, but it was more an evolution of the A4 than a full upgrade.
The Audi A5 was first introduced back in 2007 and was first marketed as a 2-door coupe and cabriolet. On top of that, a 5-door liftback sedan (known officially as the Sportback) was also introduced as a larger, more family-friendly body style.
In its latest form, the Audi A5 comes in 6 trim levels, starting from the base-level Premium 40 which starts at $44,995, and working up to the Prestige 45, which starts at $56,845. This makes it one of the better value luxury executive sedan cars on the market, especially when one is buying pre-owned.
There are several different engine options available on the Audi A5, but a typical offering is for a 2.0L 4-cylinder unit combined with a 48-volt mild-hybrid system delivering up to 248-hp in total. For a sporty, high-powered sedan, the A5 is fairly efficient, too, getting up to 25-mpg in the city and 34-mpg on the highway.
While some complain that the interior of the Audi A5 isn't as plush as one might expect for the budget, they still do not deny that Audi does well to use all high-quality materials. There's not an ounce of cheap plastic in sight. Those needing a more spacious rear seating area would be better off looking at the A4 or A6 models, but the A5 can sit 2 average-sized adults comfortably enough, and the space is more than enough for young children.