Kia Stinger Warning Lights
---
Select Your Model Year...
Choose the appropriate model year for the Kia Stinger you are trying to find the warning lights for from the list below.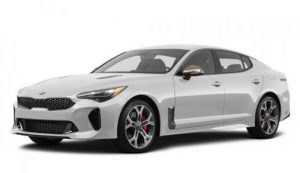 About the Stinger
The Kia Stinger is an executive car that attempts to rival its more expensive competitors for speed and acceleration, along with build quality and design. It achieves these aims extremely well and gives buyers the opportunity to buy a stylish, and fast hatchback that won't break the bank.
It competes with the Ford Focus RS and the Audi S4 on the more "grown-up" end of the hot hatch automobile market.
Under the hood, the Stinger is equipped with a 3.3 Litre twin-turbo V6, producing just over 360 horsepower. Couple this with the Stinger's lightweight design, and you'll be able to go from 0-60 in under 5 seconds, which is very respectable. This power is translated through a manual gearbox, which emphasizes the simplicity of the var. It's a simple design, but incredibly effective.
With all of this great performance, you may be under the assumption that the Stinger is incredibly impractical, and an overall waste of your money. This couldn't be further from the truth. The car is packed with standard equipment, from a 7-inch infotainment system to a head-up display that allows you to view information on the windscreen. There's also plenty of space for five people and luggage, making the Stinger incredibly practical.
The Stinger also received a safety rating of 5 stars with Euro NCAP. So, if you drive with children, or generally prefer a safer vehicle, the Stinger is perfect. It beats many of its rivals in the hot hatch category too, making it an excellent choice for anyone with safety on their mind.
The Kia Stinger does face some common problems. For instance, the fuel pump's nozzle can get blocked, which will cut fuel supply to the engine, ultimately resulting in a loss of power. This can be incredibly frustrating, especially when you consider that the Stinger's speed is one of its best qualities. Furthermore, some users have reported a faulty electric system, caused by frequent short-circuiting.