Ford Ka (incl. Ka+) Warning Lights
---
Select Your Model Year...
Choose the appropriate model year for the Ford Ka (incl. Ka+) you are trying to find the warning lights for from the list below.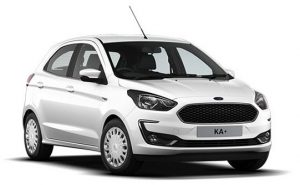 About the Ka (incl. Ka+)
When the Ford Ka first appeared back in the mid-1990s it was classed as a city car.
It was a tiny automobile that was based on the Ford Fiesta at the time, although a lot of butchering had to be done to shrink down the chassis size.
Inside the car were a lot of the same components used in the Fiesta and manufacturing took place on already existing production lines.
This allowed the Ka to be built cheaply and in massive numbers, making it an ideal first car or one for the elderly.
It had brilliant handling thanks to the way that the suspension was set up, an attribute that the Fiesta and Puma both displayed too.
The Ka has a perfect pyramid shape with a wheel in each corner to allow for an amazingly low center of gravity too.
Powering this car was a range of mostly sensible small-displacement engines but Ford did offer a sports trim too.
A Zetec 1.6-liter engine version of the city car was offered called the SportKa - underneath was a more complicated suspension setup for improved handling too.
Alongside this was the StreetKa, a convertible version of the Ka with the same Zetec 1.6-liter engine and a longer body.
In 2008 Ford introduced the second-generation model and this came with a move to a totally different platform, one shared with the Fiat 500.
Inside was a much wider range of features that hadn't been on offer with the Ford Ka before including a subwoofer and USB ports.
Engine choices for this second generation model were also slightly larger, namely 1.2-liter and 1.3-liter.
During the 2014 model year, a third-generation Ka entered showrooms and this saw a move back to the Fiesta platform.
It also saw another big change in that the car was now classed as a subcompact rather than a city car due to its growth in size once again.
A diesel-powered version was made available for the first time that could be chosen by customers in India.
You could find a slightly longer version of the car being marketed as the Ka+ in some regions such as Brazil too.