Select Your Model Year...
Choose the appropriate model year for the Ford Edge you are trying to find the warning lights for from the list below.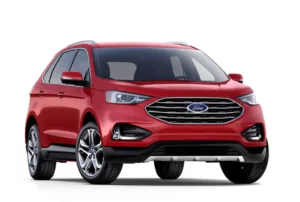 About the Edge
Underneath the Ford Edge, you will find the Ford Fusion family sedan with slightly uprated suspension to handle the additional weight of the body.
Many car buyers within the last 10 years have been opting for crossover SUVs like this one as they possess the benefits of a normal car (such as lower running costs) with the additional storage space associated with normal SUVs.
Originally, the Edge name was used as a trim for the Ranger pickup truck that was less off-road-capable for those wishing to reduce running costs but still own a truck.
Mazda sold a version of the first-generation Edge as the CX-9 before discontinuing it and focussing on the rest of their crossover SUV range.
Within the Ford range of SUVs this one slots between the Escape and Explorer models in size.
Safety ratings on the original first-generation Edge model were impressive, scoring 5 out of 5 stars in most disciplines.
As the years have gone by and this crossover SUV has been redesigned that score has increased to the point where every test has 5 out of 5 stars, apart from the follower where it scored 4.
Sales of the car started off slow when it was released in 2007 due to an uncertain economic climate but have grown and remained strong after a few slow years.