Dodge Ram Pickup Warning Lights
---
Select Your Model Year...
Choose the appropriate model year for the Dodge Ram Pickup you are trying to find the warning lights for from the list below.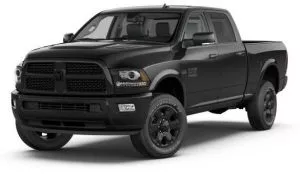 About the Ram Pickup
The Dodge Ram Pickup is potentially one of the greatest half-tonne pickup trucks on the market. It features an excellent ride, accessible and practical interior features, a choice of engines and an overall luxurious feel. So, if you're looking for a pickup truck that will feel more like a luxury saloon, the Dodge Ram Pickup may be for you.
Under the hood, Dodge offers its drivers two engines. You can either opt for an eco-friendly V6, supported by a 48-volt hybrid motor. Alternatively, if you're looking for a little more power, Dodge offers a 5.7 Litre Hemi V8, which is also supported by an electric motor. Both engines will allow you to take the truck pretty much anywhere, and the Dodge Ram feels fast compared to many other pickups. And fortunately, the ride isn't compromised by this power. In fact, the suspension allows for an adjustable ride height, as well as extra efficiency when driving off road. So, no matter the terrain, the Ram will handle it with power and comfort.
In terms of towing capacity, the Dodge Ram is only beaten by the Ford F-150. It can tow up to 12,750 pounds, which should be more than enough for most users. You can also load the pickup with up to 2300 pounds, which is plenty.
The story only gets better when you enter the cabin. Drivers will be able to ride in comfort, thanks to advanced ventilation, heated seats and a panoramic sunroof. Higher models are also equipped with a wood and leather trim, which is stunning to look at.
Finally, the Ram Pickup comes equipped with a 12-inch touchscreen infotainment system. There are some glitches with this system, but overall it's a very simple yet effective design. You can even connect your phone, which is an added bonus.