Dodge Avenger Warning Lights
---
Select Your Model Year...
Choose the appropriate model year for the Dodge Avenger you are trying to find the warning lights for from the list below.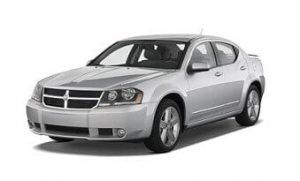 About the Avenger
The Dodge Avenger is a family saloon, that aims to combat major rivals in the £15,000 price range, most notably the Ford Mondeo. Dodge has added some impressive features with this car, but it also falls short in many areas, so is unable to compete in such a competitive market.
On the outside, the Dodge Avenger looks extremely American. It's fitted with a curved roofline, and muscle car spoiler, which looks great. However, the Avenger also features a protruding front bumper, which really takes away from the overall style of the car.
Inside the cabin, the story does get better. The Avenger includes some innovative features, such as a cubbyhole that can cool up to four drinks at a time. Couple this with a touchscreen infotainment system, which can store over 1,500 songs, and you're in for a great experience in terms of entertainment and comfort.
Under the hood, the Dodge Avenger features a 2.0 Litre diesel, with a turbo. This engine is made by Volkswagen, which is a sure sign of reliability, as well as great performance. Driving the Avenger is smooth and effortless, and you won't have to worry about getting it up to higher speeds. It does take a little work to pull away though, as the higher gears hold the power in the Avenger.
Some common problems with the Dodge Avenger include an overall lack of refinement and reliability. It's the little problems with this car that stop it from competing with its rivals. For instance, the cabin is made of poor and dull materials, it's fairly uneconomical, and the styling leaves much to be desired.
The Dodge Avenger is certainly a good effort by the American automaker. However, they've just missed the mark in the saloon market and will have to refine their attempts in order to make a bigger impact.