Dacia Jogger Warning Lights
---
Select Your Model Year...
Choose the appropriate model year for the Dacia Jogger you are trying to find the warning lights for from the list below.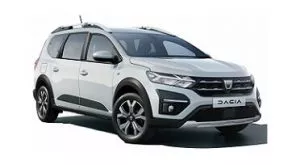 About the Jogger
The Dacia Jogger can quite simply be described as one of the best examples of a comfortable crossover SUV. Dacia themselves would go as far as to list it as a 'Sports Tourer'. It ticks all of the boxes a family of 7 (yes 7!) would want. Easily accessible seats, a great multimedia system to keep the kids quiet, sliding trays to avoid juice box spills, a huge storage capacity of up to 23.1-liters and smart climate control. For the parents, it offers an incredibly smooth ride with a comfortable interior making it either the perfect vehicle for a quick trip to the supermarket, or alternatively, a long motorway haul to the seaside!
Initially revealed in 2021, the Jogger took the place of its predecessor, the Logan MCV (a similar vehicle created by Dacia, a subsidiary of Renault since 1999).
There's a reason these cars have been wildly successful, aside from their utilitarian yet modern styling, they tend to be rather more budget-friendly in comparison to their SUV counterparts like the Nissan Qashqai, Skoda Kodiaq or the Peugeot 5008. That having been said, the Jogger is a little towards the higher end in costs from the Dacia range, this is largely due to their smart features, clever storage and intelligent driver assistance.
The most popular model available right now is the 1-liter 3-cylinder turbocharged petrol, but there are variations on this meaning. Dacia have really thought about their customer and their subsequent requirements; Essential, Comfort and Extreme SE, the latter boasting 8" media sat-nav, Bluetooth, smartphone replication, steering wheel controls, heated front seats and DAB.
The Romanian automaker has come a long way from the basic brand that was founded in 1966. With Renault's guidance, they have become a serious contender in the global market and the newest generation of the Jogger really does showcase everything that this company is truly capable of.