Citroën C3 Aircross Warning Lights
---
Select Your Model Year...
Choose the appropriate model year for the Citroën C3 Aircross you are trying to find the warning lights for from the list below.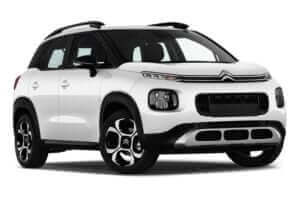 About the C3 Aircross
The "C3 Aircross" name may prompt a little confusion in some because it does actually refer to 2 separate SUV projects from the French auto giant, now part of multinational Stellantis. The first model is a 2010 updated version of the C3 Picasso that was made in Brazil and sold across Latin America. However, we are referring here to the second one, which is a 2017 urban crossover SUV model that replaces the C3 Picasso in Europe.
The C3 Aircross is built on the same platform as the Opel Crossland X, one of its corporate cousins. It remains within its first generation, with a facelift in 2021. It's powered by a 1.2L 3-cylinder gasoline engine (one option of which comes with a turbo), as well as two diesel options, one a 1.5L and the other a 1.6L, depending on the exact model and market.
Citroen has been quite deliberate in making the C3 Aircross a crossover SUV best suited to life in the city, which is why priority in development was given towards features that enhanced drive quality and comfort, rather than dynamics and handling. They face some stuff competition these days, too, thanks to updates in the Nissan Juke, and the Peugeot 2008.
The facelift in 2021 made some subtle changes to help keep the C3 Aircross competitive, including a sharper front-end bumper and headlight design, decals on the rear quarter lights, and some minor changes to the rear bumper. Where it really shines is in the interior, though, with the seats offering extra padding for comfort and support.
One thing drivers love in the facelifted version is that the 7-inch infotainment screen is out in favor of a brand-new 9-inch one. There are no real-button controls, though, so it can be a little fiddly when driving.